Top-Rated Plumber in Greeley
Best Plumbing Services for Residential & Commercial Plumbing in Greeley, Fort Collins, Loveland, and all of Northern Colorado!
Schedule a Greeley plumbing Service Online!
This is a very responsive company. It is well staffed and easy to set up an appointment. Their communication was impeccable. The technician who showed up on time was super friendly and polite, and got the job done quickly. A great company!!
Roland with Too Notch Plumbing provided excellent service that exceeded my expectations. On Friday, shortly after contacting the company, he provided me with a quick quote to replace a shut off valve that was very reasonable. He then performed the work on the following Tuesday in a very timely and complete manner. This service was excellent
Highly recommend this company! The job we had them come out for was not easy super hard work and they did a fantastic job. Very professional hard working guys/ company. We will be using them for all future jobs and will recommend them to everyone. It was an all around 10/10!!
Roland came out the day after we called to have our toilets resealed, got the job done in less than 2 hours (two toilets), was reasonably priced, and incredibly friendly! Definitely recommend this business!
Tom San Filippo
2022-03-31
our water heater pilot light would not stay lit, we called top notch and they made the effort to juggle some appointments and get us on the schedule for that very morning(they also recommended another company in case they couldn't get out there that day). Miguel came out and had the problem in hand in 20 minutes. They took the effort to test the components and diagnose a broken thermocouple instead of just recommending that we replace the entire unit. We are very satisfied with their professionalism and competence. Thanks Top Notch, you truly live up to your name!
Brian Anderson
2022-03-23
I had them come out to cap a gas line outside that went to a BBQ grill hook up, install a new fill valve and interior components in a toilet, and install a new faucet to my kitchen sink. Very professional, knowledgeable, and completed all 3 projects in an hour. Very happy!
In the dead of winter my water would not get hot! My heat/air company referred me to Top Notch Plumbing and I was able to make an appointment for the following day. Miguel and Ray arrived and went right to work to diagnose and fix the issue ... the thermostat on my water heater was set too low! The technicians explained the problem to me and proceeded to show me how to correct it in the future should the same problem occur again!! The men were thorough, polite and efficient ... and the service charge was very reasonable. Thank you so much.
Miguel did an awesome job! He was very knowledgeable and professional. The whole experience was great! I feel so good knowing I can call trustworthy plumbers with reasonable prices.
Plumbing Services in Greeley CO
Top Notch Plumbing, LLC is seeking a Colorado licensed journeyman plumber interested in being a part of a fast-growing, reputable plumbing company. 
Best of Greeley plumber for 2020, 2021, & 2022!
Top Notch Plumbing Serves Greeley, Evans, Loveland, and all of Northern Colorado
Top Notch Plumbing, LLC is Northern Colorado's premier, top-notch plumbing company. Our 5 Star Rated team consists of 3 Colorado licensed master plumbers, a combined 60 years of experience in all facets of the plumbing industry! Customers who seek; quality, unrivaled, and deluxe service have voted us Greeley's Best Plumber in 2020, 2021 and 2022! If you find value in quality, experience, and reputation, Top Notch Plumbing, LLC is your go-to option for a plumber in Greeley. We are proud to be City of Greeley's plumbing service provider and vendor for Greeley's ATMOS.
Our Plumbers in Greeley provides all aspects of plumbing including installation of waste and vent, domestic water, and natural gas, in residential, commercial Plumbing and repair, and industrial settings. Top Notch Plumbing provides superior plumbing repair, and maintenance to residential, commercial, and industrial locations. We are certified in backflow testing, medical gas installation, brazing and other specialized plumbing services. All labor is backed by a 1 year warranty.
Top Notch Plumbing, LLC is a grassroots Greeley small business. We are capable of staffing small to big projects, from minor leaks and repairs to plumbing installation in commercial or industrial settings. We strive to continue to lead the plumbing industry with quality, safety, and integrity.
For a top rated and reliable Plumber in Greeley CO, schedule an appointment with us today.
"I am the sole owner of Top Notch Plumbing, LLC. I started Top Notch Plumbing by obtaining my Colorado plumbing master's and contractor's license. While working for another company full time, I provided repairs on the weekends with my hand tools and an old T100 truck.
Seven years later, we have 18 employees on our team. We have managed to weather the pandemic with the support of Greeley and northern Colorado. We have grown our new construction division and have successfully completed multiple new construction projects. We have grown our service department, and we are one of the highest-rated service providers in northern Colorado. Greeley has voted us Best Plumber 3 years running! As we brought in 2023, we introduced our Drain Cleaning department and look forward to providing drain cleaning to all of northern Colorado.
We grew our business with a concentration on core values like: integrity, consistency and hard work. Top Notch Plumbing continues to focus on building our team with experience, safety, and quality. I strive to provide the best working conditions for our team. I look forward to continuing to grow and provide for northern Colorado. Soon we will carve our way into the federal contract arena and provide niche and specialty plumbing for our government on all levels.
We are 8(a) Certified meaning we are a business in an SBA program that receives training and technical assistance designed to strengthen our ability to compete effectively in the American economy. I am an SBA T.H.R.I.V.E. Alumni, which is an executive-level training series designed to accelerate the growth of high-potential small businesses across the United States.
I grew up in Greeley and went to Valley High in Gilcrest. I have been plumbing since the age of 24. I enjoy running and recently ran the BOLDER Boulder and the Long View Half Marathon. I will be running my first full Marathon in Denver's Colfax Marathon!"
-Adrian Vigil
ADRIAN VIGIL
Meet Our Service Plumbers in Greeley
Roland
Roland is our Service Manager and adds his experience and knowledge in helping our customers. He was born in Tuscon, AZ 🏖 and raised in Franktown, CO. He moved to Greeley in 2015 and has been working in HVAC/Plumbing for over 8 years. Roland has been on the Top Notch Plumbing team for over four years! His hobbies are woodworking, metal work and climbing.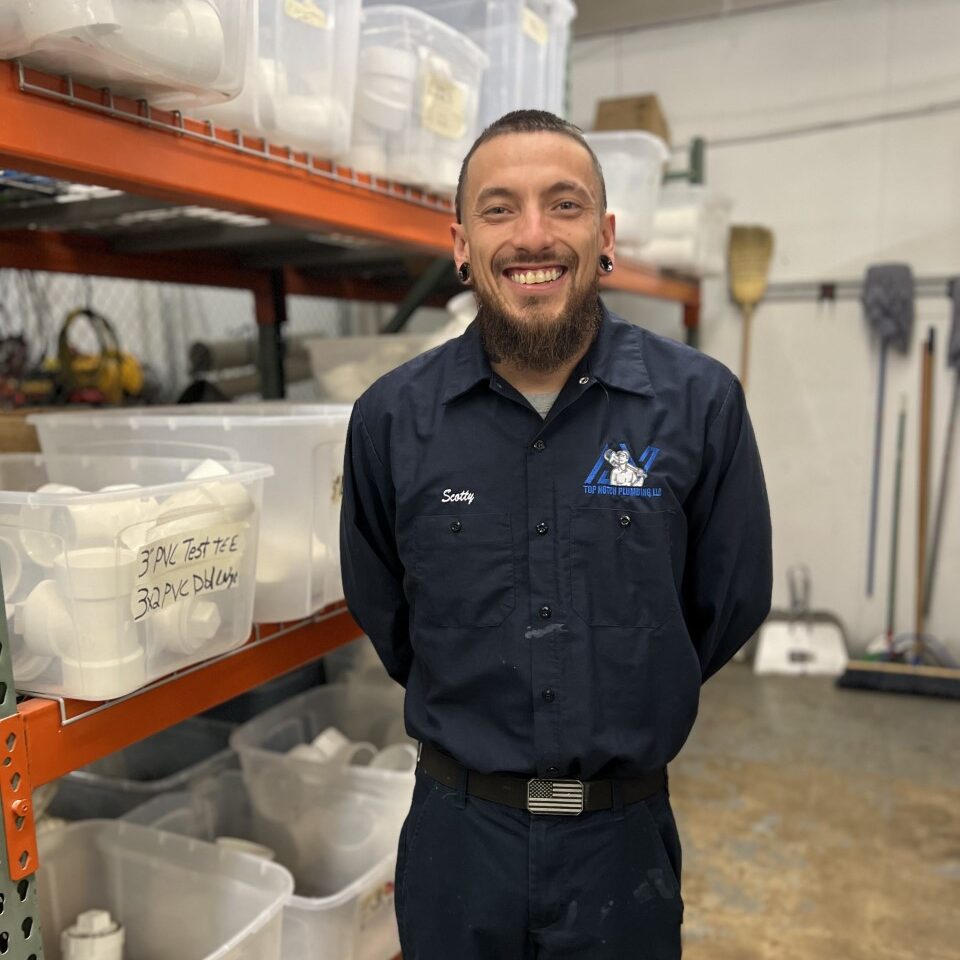 Scotty
Born and raised in Greeley, CO. He attended Greeley West High School Class of 2010, Go Spartans! His hobbies include fishing, backpacking, and art. Scotty enjoys spending time with his family. Scotty brings his hard-working attitude and attention to detail to every call.
Miguel
Born and raised in Greeley. Is engaged and has two children. He enjoys spending the warmer months fishing, grilling and loves football Sundays. When he is working, he enjoys networking and getting to meet new people. Customers who have had the opportunity to work with Miguel have shared great reviews acknowledging his great customer service and being attentive to their needs.
Jeremiah
Jeremiah is our Drain Specialist, Manager. He brings his expertise in drains and leads our Drain Cleaning department. He was born and raised in Greeley. Jeremiah's hobbies are fishing, camping, video games, RC cars and he's a hardcore Broncos fan! He enjoys the satisfaction of helping fellow community members in need.
Ty
Ty was born in Greeley, CO and still living in northern Colorado with his wife and four kids. Some of his hobbies include: fishing, hunting, and spending time with family. Ty has been plumbing for over 4 years and his expertise is in gas piping. "I enjoy learning new things and taking on challenging projects to expand my knowledge on plumbing."
Plumbing Services for Residential, Commercial, Kitchen, Bath and More!
We are 1 of a handful of selected contractors that
are fully endorsed, qualified and listed in the 2019,
2020, and 2021 Five Star Rated by Home Services
Review Research Publication!
Here at Top Notch Plumbing, we hold immense respect for the courageous individuals who tirelessly safeguard and support our communities around the clock.
It's with great enthusiasm that we extend a special invitation: an exclusive
10% off FIRST RESPONDERS DISCOUNT for our local heroes, including Firefighters, Paramedics, Police Officers, and Flight for Life Pilots.
Be sure to mention you are a first responder when you call to book your service.
Specialized Plumbing Services & Equipment
At Top Notch Plumbing, we leverage advanced technology to deliver exceptional plumbing services in Greeley & Northern CO with a commitment to environmental responsibility. 
Efficient Drain Unclogging
Using tools like sewer cameras, drain snakes, and hydro-jetting machines, we can swiftly tackle even the most stubborn clogs. This technology ensures prompt and effective drain cleaning.